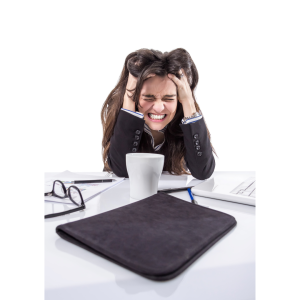 How would an extra 13 weeks a year change things for you?
How would it change your life?
Would it give you time to build stronger, happier relationships with your kids?
How about discovering renewed love with your partner?
Maybe more time to build your career success?
What if you had less stress and felt better?
Maybe you'd get more or better sleep? Increased energy, so you get more done?
Without change, your health, relationships, and career will all suffer. Burnout looms ahead.
You can't take care of others or do your best work when you're stressed, tired, or frazzled.
Are you trapped in busy?
Do you ever feel like, gees— I need a wife?
Wouldn't that be awesome? Someone to help take care of the house, laundry, grocery shopping, and chauffeuring the kids. How about picking up the dry cleaning? Or what if they helped with work tasks that dilute your ability to focus on what you do best?
What's keeping you from doing what you LOVE to do?
What's being neglected and probably having a negative impact on your business success? Do you even remember the last time your website was updated or thought about your brand?
Are you feeling anxious about the unsteady economy and what next year will be like? Some circumstances we can't control. But we can decide how to respond to them.
If you had a Fairy Godmother, what would she be like? Certainly not like Cinderella's! Let's get real!
You want a caring mentor, business smart and savvy. She'd know secrets to help you have time for family, career, AND yourself. More time. Less stress. More fun.
It may sound too good to be true, but I've done it myself. I get more done in fewer hours. Eating healthier, sleeping better, and getting my step count. Hubby and I enjoy some quality time every evening.
I've been a business owner for over 35 years. I know what it's like to do it all and attempt to meet the demands of a homemaker, businesswoman, and mother.
I've built and sold three successful practices. I've written textbooks and helped businesswomen find breakthroughs since 1995. I've failed and crashed too. I've faced those health and family issues. I've learned, grown, and practice life balances every day. Now, I'm sharing… giving back and paying it forward.
Come discover with me. I'll show you how to have an extra 13 weeks every year to use for your career success, relationships/ family, and time for YOU care too. That's 25% more time.
What would discovering that look like? You need it to be short but with great support. You don't have a lot of time. You'd enjoy connecting with other like-minded women in a safe environment where you can share and find answers.
Week 1: The Secret to Extreme Self-care! Feel more relaxed, Sleep better, and have more energy. (Remember what the airline stewardess says – put your own mask on first… self-care.)
Week 2: Take Back Time – How to get 13 extra weeks every Year. Set your vision and follow your dreams. Then put the 13-Week Productivity Method to work.
Week 3: Discover Your Fulfillment Roadmap. Set your career goals for immediate, intermediate, and long-term success.
Week 4: Ditch Superwoman – We know she's toxic. Do this instead. Non-toxic techniques to get stuff done and have more fun.
Join us in 13 Extra Weeks: How to Escape the "Busy Trap" and Get 25% More Free Time Every Year
Each week we will have a Group Discovery Call, which will be recorded and available for you to watch again. I'll also have ongoing support via email in our Facebook group.
Courses like this normally run $1697 – but this will be a pilot program, so you'll get in for a fraction of that. The space will be very limited, so you'll need to act quickly.
Join us in 13 Extra Weeks: How to Escape the "Busy Trap" and Get 25% More Free Time Every Year
A short 4-week program to get you started enjoying life and your career more.
But I have more for you when you join this program…BONUSES!
We'll have a private Facebook Group called PROSPER because that's what I want to help you do. And yes, I'm a Mr. Spock fan, and he always said: Live long and prosper!
Prosper will be our safe, private space to share our wins and challenges and connect with like-minded women.
And to help you grow your success…
Who do You Serve – Your Ideal Clients ($497 value)
Use a Content Calendar for Time Management ($397)
How to Get Along with Anyone – Personalities ($297)
What's Your Story – a journey of discovery ($297 value)
KLT – Secret Sauce of Selling Anything ($297 value)
How to Delegate Regardless of Your Budget ( $197)
Charting Your Career Path ($497)
Bonus 15-minute 1:1 call ($75)
The total value of the course plus bonuses…..$4251
             But for this one-time pilot program, you'll only pay  $499  
That's an 89% discount!
Please message me if you have any questions, and seats are limited. And remember, you'll have 3 days, 72 hours, to join. The class starts soon.
For more information or help, message me: [email protected].