Hungarian Mushroom Soup…Yum!!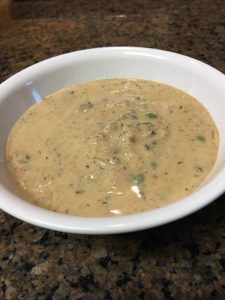 Hungarian Mushroom Soup gets its name from the incorporation of Hungarian Paprika which as a bit more flavor than regular.
Winter calls for some comfort food and mushroom soup fits the bill perfectly.  War, and yummy, it's also incredibly good for you.  Mushrooms are full of antioxidants…great during cold and flu season.  Consider this your base recipe and feel free to experiment.
Ingredients: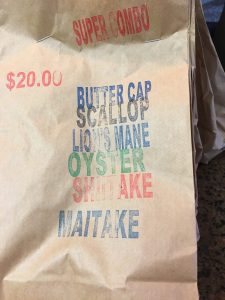 1 lb. fresh mixed mushrooms (Shiitake, Maitake, Oyster, Lions Mane, Baby Bella… whatever you fancy) chopped  (The first time I had this, they were chopped very fine as he was handing out samples. But chop them however you prefer.)
2 cups finely chopped onion
4 Tablespoon butter
3 Tablespoon flour
1 cup milk (any kind you prefer)
1-2 teaspoon dill weed
1 Tablespoon Hungarian Paprika (kickier than plain . If not in your local store check Amazon.)
1 Tablespoon Tamari (soy) sauce

1 pound chopped organic mushrooms

1 teaspoon salt
2 cups chicken stock (I substituted ½ cup white wine)
¼ cup chopped fresh parsley
2 teaspoons fresh lemon juice
Fresh ground black pepper or to taste
½ cup sour cream
Directions
Saute' onions in 2 Tbsp butter, salt lightly.  A few minutes later add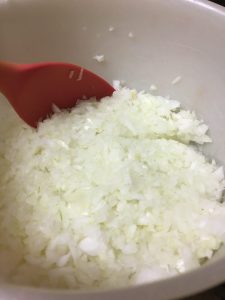 mushrooms, 1tsp of the dill and ½ cup chicken stock, soy sauce and paprika. Cover and simmer 25 minutes. Set aside.
Melt remaining butter in a large saucepan; whisk in flour, cook while whisking (a few minutes). Add milk; continue to cook, stirring frequently over low heat, about 10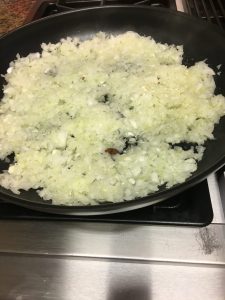 minutes until thick. Stir in mushroom mixture and remaining stock.  Cover and simmer 10-15 minutes. Just before serving add salt, pepper, lemon juice, sour cream, and if desired additional dill.  Garnish with parsley.
Since I wanted this to be a main dish instead of just soup, I added about 10 oz chopped protein and made extra of the sauce.  Served with crusty bread. Hubby gave it a 10.5!
For my double batch I prepared just the mushroom part and after it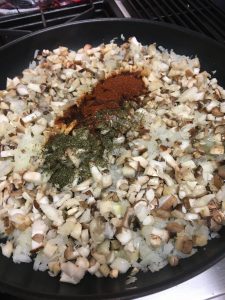 simmered and cooled, put it in a freezer bag.  Now I can make quick soup whenever I need it.
Note: This can also be thickened a bit more and turned into a super yummy gravy with or without the protein.  How about using some of that leftover turkey or ham and making a melt?  Testing a recipe shortly.